Hairs are one of the greatest beauty assets and add up to the overall look. Lustrous, long, and thick hairs are the dream of every girl! Hairdos and styling are also very important when trying to achieve a certain look, especially a bridal look. Styling becomes very difficult when your hairs are not in the best of their health. Many stylists recommend using hair masks or some home remedy to keep your hair healthy.
I have a naturally oily scalp with dandruff that comes and goes. While my scalp is oily my hairs are fizzy, curly, and fall more on the dry and rough side. This is a very bad combination for hair care and managing my hair from day to day had always been a struggle, and hence I mostly kept my hair short.
For my wedding, I let my hair grow and started an easy and not very strict diet plan to lose weight. While I did lose 15kg in 4 months from that awesome and healthy diet plan, staying on the same diet plan for so long took a toll on my hair and I suffered some serious hair damage. They become really dry and I started noticing split ends. I got my hair trimmed to get rid of split ends but they were so brittle and dry that the split ends came back again very soon. What to do now? Obviously like any bride-to-be, I panicked.
The Research on Magical Ingredients of Hair Mask
Frankly, hair care products are very expensive and I really don't like to take risks with my hair. Especially this close to my wedding I was not ready to take any risk of chemical damage, so naturally organic or herbal hair care was my first choice. I want to try an effective home remedy for dry hair but there were too many options, and I was not sure which way to go. That's why I started to conduct my own research on what natural ingredients were good for dry hair. Here are my findings:
Honey is great for bringing shine and life back to your dry hair and leaves a sweet smell in your hair.
Eggs, yogurt, and milk are great sources to moisturize your hair with added benefits of a protein treatment.
Eggs and Yogurt will leave a nasty smell on your hair which may or may not last for days.
Oil (any hair oil) is great for revitalizing your dead-looking dry hair.
Tomato juice, apple vinegar is lemon juice are all good for combating dandruff.
Tomato Juice comes with added benefits of Vitamin A, B, C, and E and thus will leave your damaged hair healthier and softer.
Step by Step Instructions for Home Remedy for Dry Hair
With the above-given knowledge, I designed my own hair mask for dry hair which I swear by to this day and still use. I experimented and applied the very same mask on my face and it helped diminish my acne (yes dandruff and acne seem to go hand in hand) and left my baby soft and shiny. So yeah this mask can be used for dual purposes. In fact, you can add ground sugar to it to use as a facial scrub too!
Step 1: Take one tablespoon of milk in a small cup
Step 2: Add one tablespoon of any hair oil of your choice (I used mustard oil) and mix well.
Step 3: Add one tablespoon of honey and beat it well
Step 4: Now one tablespoon of tomato juice in the mixture and stir well
Vola! The mask is ready! As simple as that.
Take an equal amount of all the ingredients and prepare the mask according to the length of your hair.
Hot to Use Magical Hair Mask?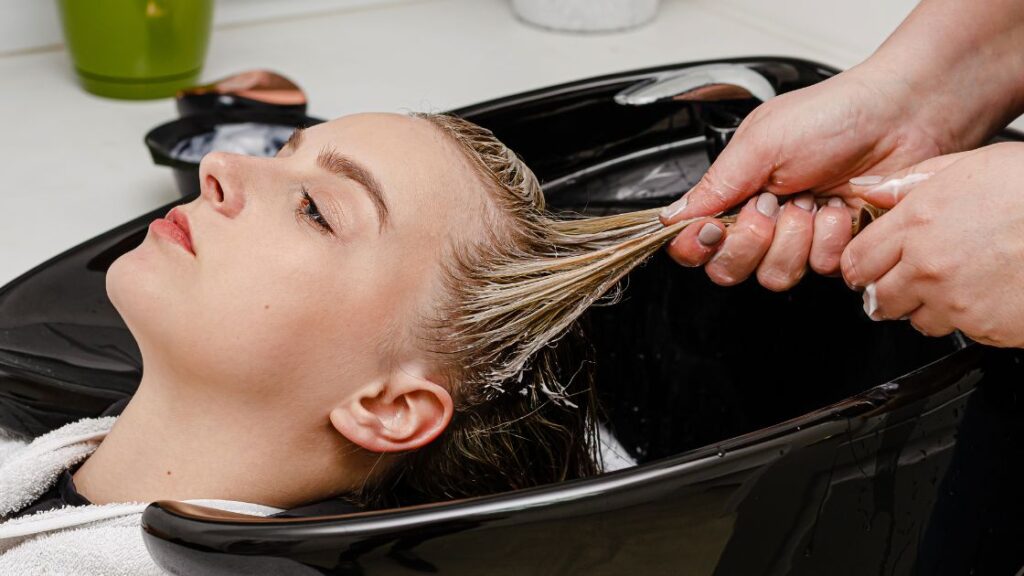 Apply this hair mask on your scalp and the length of your hair, from root to tip. You will need to apply it half an hour to 20 minutes before taking the shower and put on a shower cap. After 20 minutes rinse your hair well and wash it with your regular shampoo. Apply the mask twice a week and you will see the difference right after the first wash. For best results use the mask for a minimum of two weeks. Bye bye dry hair and hello shiny beautiful hair.
Note: This hair mask contains liquids with different densities and proteins in milk will not go well acidic nature of tomato juice so things may become yucky after sitting for a couple of hours in the cup. It is recommended that you make a fresh mask for every use and do not let it sit for longer periods of time or freeze it for later use. Pssst, it's super easy to make and use, don't be so lazy.
If you try this mask, do let me know about the results. I really hope it helps you as much as it helped me. Good Luck!