Bookkeeping Definition… What Is It?
Bookkeeping is an essential part of accounting. The bookkeeping definition refers to the recording of companies' financial transactions on a regular basis. Bookkeeping enables the corporations to trace all information on their books to make key operating, investing, and financing decisions.
All the business transactions such as sales earned income, payment of taxes, earned interest, payroll, and other operational costs, loans investments, etc are documented and recorded in ledgers of accounts.
The strategy under which the bookkeeping is maintained defines the accuracy of the entire accounting process that has been obeyed by the business. In short, bookkeeping assures that the record of financial transactions is accurate and up-to-date.
Bookkeeping is the initial point of accounting. You cannot suppose accounting without bookkeeping. It is mandatory for all types of business, whether small or big. The significance of bookkeeping can be highlighted as follows
Bookkeeping serves to compile the income, expenditure, and other ledger records regularly.
It helps to keep track of receipts, payments. Sales, purchases, and records of every other business transaction.
It gives information to create financial reports. Financial reports present specific data like how much profits the business has made or how much the business is meriting at a specific point in time
Bookkeeping Job Description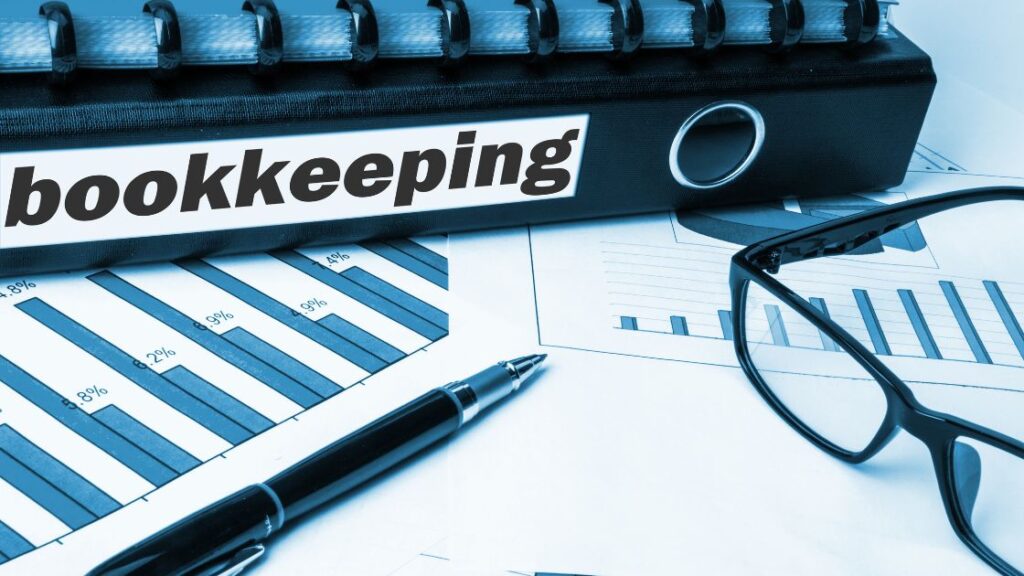 It is almost clear from the bookkeeping definition that bookkeeping is all about tracking, recording, and organizing business transitions. Individuals engaged in bookkeeping are known as bookkeepers. The bookkeeper is an individual who is engaged in maintaining bookkeeping, usually entrusted with the responsibility of tracking all the transactions related to business. The bookkeeping job description includes the following tasks to be performed by the bookkeeper
Billing for products/assets sold or services provided to clients.
Recording vouchers from customers.
Checking and recording invoices from suppliers.
Record-keeping payments made to suppliers and so on…
Job Duties and Responsibilities of Bookkeeping
Maintain an accurate record of financial transactions
Update and maintain the general ledger
Reconciliation of entries into the accounting system
Recording of credits and debits.
Maintain the analysis balance, by conciliation of general ledgers
Account agreement to affirm the accuracy of transactions
apply information of regional laws to comply with reporting requirements
Monitor any variances from the projected budget
Bookkeeping Salary
According to payscale, the average hourly pay for bookkeeping is $18.02/hour. According to ZipRecruiter, the average hourly pay of bookkeepers is $28/hour and $58,536 /year.
Bookkeeping salary is highly dependent on experience and it also varies from country to country or state to state. However, if you are passionate then you can easily earn a handsome amount of money in a short time.
How to Become a Bookkeeper
In order to become a qualified bookkeeper, you need to do graduation in the field of accounting. You need to have average grades in mathematics, English, and computer skills for stepping into the four years degree program. Further online courses on bookkeeping are available. You can learn this skill to earn money by working part-time as a bookkeeper. The steps to becoming a bookkeeper can be summarized as
Get a high school degree
Bookkeepers need to get bachelor's or associate degrees but mostly high school degrees are also enough to be a bookkeeper. This high school degree will give you the basic math, writing, and communication skills that are necessary for being a bookkeeper. Other basic skills like time management, organization, and teamwork can also be learned in high school.
Get training
You can acquire bookkeeping training through various sources. You can be a self-taught bookkeeper who learns by using accounting software or by attending online webinars. You can also do internships for the sake of practical exposure in accounting firms. Giving the best performance during an internship will admire your supervisor to hire you for a job or long-term project. you can use multiple accounting software to improve your productivity.
Ask for positions
Once you get enough exposure to this field through training or internships then finding a job will be your new target. To showcase your skills and present yourself as a good candidate, you need to write a good resume that highlights your skills. Potential and professional experience ( If you have any ). You have to send this resume to well-reputed accounting firms through email and keep a check on job vacancies in local companies and firms.
Become a freelancer
Freelancing is also a good source of making money. If you are interested to be the one then your next step will be to establish your own bookkeeping service. You can use your traditional professional experience to get new clients through various freelance platforms like UpWork, Fiverr, etc. Moreover, you can use your personal network by asking friends, family, and coworkers
Become certified bookkeeper
Although certification is not mandatory to become a successful bookkeeper, it increases the probability of getting more clients. The certification criteria are different for every country but generally, you need to pass an exam and get your certificate authorized by the government to become a certified bookkeeper.
Reason To Select Bookkeeping Career
You may have a few questions about starting your career in bookkeeping. You may face these types of questions frequently from friends and family. What is the main reason to select a bookkeeping career?. So here are the following three strong reasons that favor your decision for bookkeeping as a career.
Excellent Job Opportunities
The demand for bookkeepers never comes down. It gives an excellent opportunity for employment to skilled and passionate bookkeepers. There is an endless number of industries and companies that post open vacancies for their finance department. So bookkeepers are demanded and needed everywhere.
A Career In Your Control
Bookkeepers are different from accountants. They can control their careers and choose where and how quickly they progress. You can move to accounting and auditing as well. Additionally, bookkeepers have a choice to work part-time or full-time according to their needs. At the end of financial years, longer work hours are common. Generally, bookkeepers work regular Monday – Friday business hours.
High earnings
Today money is the ultimate need of everyone. You cannot go for any field just on the basis of your interest with less earning. Bookkeepers being the essential employees of the company earn a good income that increases with years of experience. Moreover, they can also demand more according to their worth and skills. You should consider a career in bookkeeping if you have a dream to make enough earnings that fulfill your lifelong aspirations such as buying a house and traveling all over the world.
Bookkeeping Business
It is good to set up a Bookkeeping business to make extra money. A bookkeeping business can be initiated at a small scale. You assure your clients that their income and expense records are well organized. You will provide your service to help clients with tax fillings and to understand their business operations.
But before launching your own bookkeeping business, you are suggested to work a few years for an employer. This will help you to gain enough knowledge and experience to initiate your own business and deal with clients with full responsibility.
Bottom Line
Bookkeeping is an important domain of business. Bookkeeping tasks are crucial and need to be performed in an organized way. So the bookkeeper is responsible for playing a critical role in the data collection and data input of a business' accounting cycle. Bookkeeping has a wide scope and versatile career opportunities. You do not need to worry about employment and job opportunities if you decide on bookkeeping as a career.